Complex Plastics Inc.
PRODUCTS LIST & TECHNICAL DATA
AquaCulture Mesh
Aquaculture and Shellfish Packaging
There are numerous benefits to using our netting and clips for your aquaculture and shellfish product packaging needs. But, the most important advantage is that we always use top of the line materials so your customers can fully enjoy the quality of your goods. In fact, all products are U.S.D.A. approved, and the packaging can be kept wet indefinitely because our clips will never rust. Furthermore, your customers will appreciate that our netting appropriately shrinks when cooked to allow the shells to remain closed in order for their natural juices to remain preserved. Read on for additional benefits ...

Enhanced visual presentation—Soft and pliable netting really showcases the product
Convenience—Shellfish can be steamed or boiled in the package
Traceability—Packages are individually and automatically tagged by the clipper. The tag provides traceability and a bar code for quick checkout.
Recyclable—All materials in the package can be recycled
Cost effective—Netting conforms to product shape to use the exact amount of netting which eliminates waste
Variety—Wide variety of sizes and colors for 2lb., 5lb., 10lb. and 20lb. bags of shellfish


Grow Out Netting
We have a new netting specifically created to grow mussels called "Zipper Netting." available in several sizes.

Balloon Netting
When you want to make a grand entrance or create a spectacular finish at a party or convention, trust our netting to hold your balloons until the "big drop"! Our balloon netting is soft, yet strong and capable of holding 100 or even 1000 balloons. This netting can also be used with our PlayPit Balls as well as our Bird Balls .

Additional Netting
We have a multitude of netting options to serve any specialty netting need. In fact, we know that there are many applications that haven't even been thought of yet. So, if you can invent a netting need, Complex Plastics can provide you with the perfect solution at a great price. Just tell us what you need.

Erosion Control
Net and straw wattles are an economic and efficient way to prevent soil erosion by slowing and spreading water flow and reducing slope lengths.

Decorative Net
Attractive plastic mesh netting is available in a wide range of colors and sizes to decorate tree lots, stores, pools, yards or for special occasions.

Insect Net
Insect netting, originally designed to protect trees from cicadas, is now also widely used to protect small, young deciduous trees and bush fruits against various predatory insects and animals.

Load Separators
Brightly colored nets lay flat from the front of a truck trailer to the rear in order to separate the load and minimize the possibility of any errors with multiple-stop shipments. (The netting comes in continuous rolls that are 10' wide and up to 500' in length.)

Elastic netting
Elastic netting comes in a wide range of sizes for various meat processing applications.
Click on an image for more details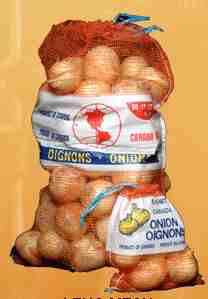 PRODUCTS LIST & TECHNICAL DATA
DocRef_990119_0_050219_4784_
12/02/2011