ComPlex Plastics Inc.
PRODUCTS LIST & TECHNICAL DATA
VINYL CHAIRMATS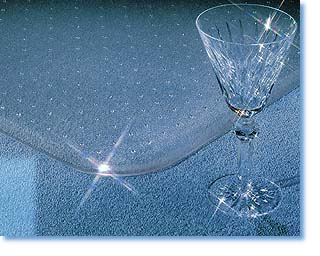 Anti Static, Gripper, Smooth, Ribbed & Textured 2 Sides
Anchormat, CrystalEdge, TBS, TransStat, and DesignR chairmats are free from any defects in material and workmanship at the time of sale to original purchaser, and will not crack, chip, break or shatter under normal usage. This guarantee is void if metal casters are used. Static dissipative properties for Trans-Stat
are guaranteed for three years. Any chairmat will be replaced after prior written approval from home office. This foregoing is in lieu of all other warranties expressed, implied and statutory. In no event shall Complex Plastics Inc. be liable for any special or consequential damage or for any delay in performance under this guarantee.
CARPET PROTECTORS RUNNERS MATS AND OTHER CHAIRMATS
RELEVANT LINKS
PRODUCTS LIST & TECHNICAL DATA
Sales/Service Department

Telephone : NORTH AMERICA 1-888-PLASTIK or 1-800-363-2870

Telephone : INTERNATIONAL 001-514-696-6767

FAX : USA & CANADA (514) 696-2637
Comments & Suggestions : webmaster@complexplastics.com
Designed By Weblord (514) 942-7969 © 1996
Last modified: Friday, December 02, 2011 09:23 AM
DocRef_0_January 29 2007_