Complex Plastics Inc.
KINO BALLS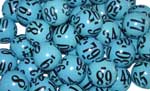 Custom Balls: We have the capability to make a ball to your specifications. Options are weight, base material color, ink color for ball, ink color for number, ink color for markings, number of numbers per ball, design of markings, etc. If you can think of it, we can make it for you..

Premium Balls: We offer several premium design balls. They include 1/2 color balls, solid color non-white balls, 2 color balls as well as 3 and 5 colors.
Ball Quality: All balls are manufactured to exact size and weight specifications and are controlled to high ISO quality standards. To insure all balls are of the same weight specification, each ball is weighed and sorted to insure balls are of like weight. All ball markings are also tightly controlled to insure color consistency.
Ball Packaging: Premium Foam packaging offers the best protection of the balls.

Ball Production Equipment: Proprietary state of the art manufacturing equipment is the best in the world for the manufacture of bingo balls. We insure quality of the bingo balls are controlled thru the automation and control of our manufacturing environment to protect against variation for size, weight, marking and color.
TRANSPARENT COLORED BALLS IN SOLID ACRYLIC ( LUCITE PLEXIGLASS ROHAGLASS )
SOLID BALLS 1 OF 2 SOLID BALLS 2 OF 2
ACRYLIC CLEAR BALLS , SPHERES & GLOBES
LIGHT GLOBES, PENDANTS & SHAPES
Key Rings & Gift Ideas, Sales Promotion Items, Novelty Items
SEAMLESS ACRYLIC POLYCARBONATE POLYETHYLENE GLOBES
PLAYPEN / PLAY PIT COLORED BALLS
Products List MORE INFO PLEASE ! Main Menu
DocRef_990119_0_050219_4784_
12/02/2011